Description
Discover How to Increase Your Golf Strength, Power and Mobility while Simultaneously Building a Body that Looks, Feels and Moves It's Best On and Off the Course.
Introducing

Dear Fellow Golfer,
Let's face it, every tour pro has their own trainer and physical therapist working with them daily to keep their body performing at a high level.
As an amateur golfer you have similar performance improvement goals, but not the same type of team to support you.
However that doesn't mean you have to settle. No, you can still see more distance off the tee, eliminate nagging joint pain and get the same competitive advantage of having a team of performance & wellness professionals, but you need the right program to follow. A program that…
Is easy to follow and is CUSTOMIZABLE to any fitness level
Doesn't BEAT UP your joints and tendons
Provides you the CONVENIENCE to train anytime, anywhere
Requires MINIMAL EQUIPMENT but still gets MAXIMUM RESULTS
Doesn't eat up VALUABLE course time and can be fit into any busy schedule
Trains GOLF SPECIFIC strength, power, mobility, stability and rotation
Focuses on both GOLF PERFORMANCE and YOUR OVERALL HEALTH
But let's face it, a program that checks all those boxes is almost impossible to find.
Most traditional online golf strength training programs…
Require you to join a gym or purchase bulky equipment for home
Only use free weights that leave you stiff and sore after every workout
Focus on building strength and muscle with minimal attention to mobility and flexibility
Provide zero education on strength training relative to swing mechanics
Lack exercise coaching regressions or modifications after you purchase
Are a one size fits all program with no individual customization
Don't foster continual real time accountability and encouragement
Here is What YOU Get with the Golf Strength 360 Training Guide and Program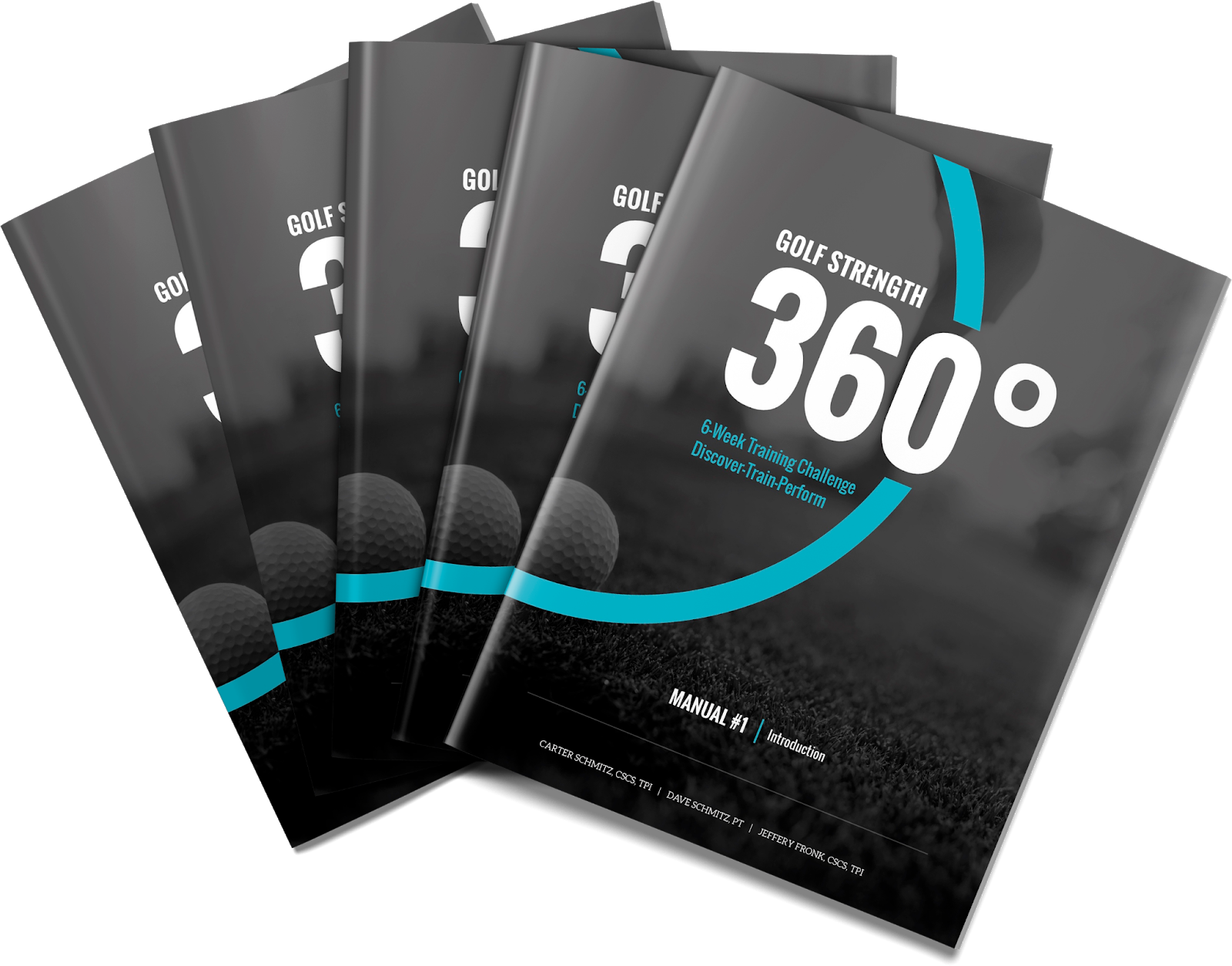 Manual #1: Golf Strength 360° Introduction: Before we jump into taking your game to a new level, we feel it's important for you to meet our team, understand our mission and learn how we are going to empower you to greater levels of golf performance and longevity.
Manual #2: The Golf Swing and Your Physical Preparedness: Within this manual we will establish a relationship between the golf swing and your physical preparedness. We will create connections between the two and discover how best we can simultaneously enhance both. Then, you will have the opportunity to utilize our 5 Part Self-Assessment Tool in order to uncover potential performance decrements as well as personalize your training program to fit your needs.
Manual #3: Mobility and Stability: Your ability to play the game injury free for a lifetime will be directly related to your body's ability to move seamlessly through the golf swing. As you work through Manual #3, you are going to discover why traditional stretching is not the complete answer to golf longevity and how simultaneously building mobility with stability will transfer to a more consistent and successful swing. To ensure this happens we provided you with a follow-along 6 Minute Mobilization Routine at the end of this manual, specifically designed to heighten your mobility as it relates to your golf swing and general movement efficiency.
Manual #4: Strength, Power, and Rotation: The demands posed by the golf swing on an athlete's body are some of the highest in all of sport (yours included). Because of this, establishing a foundation of strength is crucial to injury resilience and high levels of golf performance. Within this program, you will begin the process of developing this foundational strength as well as converting it into power and velocity. Then, we will discuss the importance of training our rotational abilities and what you can do to expand your ability to rotate, and more than that, rotate fast and healthy. As a bonus, we have provided you 3 Workouts in Under 20 Minutes, that you can fit into your busy schedule. Last but not least, you will discover what we believe to be the Ultimate Clubhead Speed Builders.
Manual #5: The Program: The final manual provides you with all of the tools you need to begin your journey to creating physical preparedness levels that are ready for the demands of your golf swing. You will receive the 6-Week Training Challenge (program) that you can complete anytime, anywhere using bands and bodyweight. You will also receive a 5 Minute Pre-Round Mobilization and Activation routine that you can complete in order to be ready for your next tee time. Know that we will be with you every step of the way providing coaching, knowledge, and motivation to help you achieve the results you seek to bring to the course.
Weekly Coaching: We will be with you every step of the way. Weekly coaching emails will provide you with training guidance, program modifications, band setup suggestions and continual workout accountability. Plus it will create a convenient and timely way to get your questions answered.