LOOK, FEEL, AND MOVE YOUR BEST
The RBT Get Fit Kit is specifically designed to provide active fitness enthusiasts with everything they need to keep their body looking great by making sure their muscles feel great and their joints move great after every workout.
With the Beginner Multi-band Package you get over 220+ lbs of strength building resistance to optimally challenge any movement and muscle. Adding in the  Accessory Kit allows you to easily perform every RBT exercise, including both attached and attachment-free exercises at home or anywhere you want to workout.
To complete this package and to make sure you are training your glutes to get strong and stable the right way, we've added in the 13″ Green Dynamic Stabilizer for FREE.
As an ADDED BONUS, once you submit your order, you will get automatic access FREE to the 12-Week BandSTRONG E-Program,  the Dynamic Stabilizer E-Guide and How to Build Your Own Home Band Gym.
Important Notice…
This customized package is not found anywhere else on Resistancebandtraining.com.   Don't miss out!
Order today and let's Get YOU Better with Bands.
Purchase the Entire
Get Fit Kit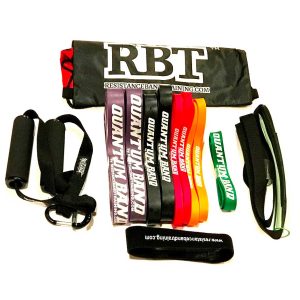 Save over $100 by ordering complete kit!!!
Regularly $269  NOW $169
Domestic Orders Only
*********************************
Don't Need the Entire Package?
Purchase items separately below.
28 Day Band Gym Ab - Core Challenge

,

28 Day Challenge

,

45 Day Fit camp

,

Accessories & Gear

,

Athletic Fit Kit

,

Cable Column

,

Champion Sports Performance

,

Contrast Training

,

Customize Basketball Training

,

Dad's RBT Fit Kit

,

ETS Performance Bands

,

Get Fit

,

Home Gym

,

Travel Fit Kit

,

Weekly Specials

$

15.99 Add to cartQuickview

13 Inch Bands

,

28 Day Band Gym Ab - Core Challenge

,

28 Day Challenge

,

45 Day Fit camp

,

Athletic Fit Kit

,

Back In Stock

,

Bands

,

Champion Sports Performance

,

Customize Basketball Training

,

Dad's RBT Fit Kit

,

ETS Performance Bands

,

Get Fit

,

Home Gym

,

Specialty Band Sale

,

Stocking Stuffers

,

Travel Fit Kit

$

6.99 Add to cartQuickview